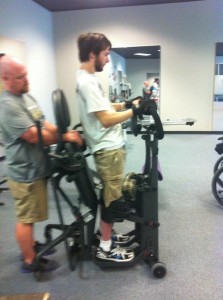 Hi, my name is Justin Quesada, I am 19 years old and on August 22, 2010 my fiancé and I were on our way to church when we lost control of our car and flipped it off the road four times. In the wreck I broke my c5/c6 vertebrae and became paralyzed from the shoulders down.
After 9 days in the ICU at Brackenridge in Austin I went to The Institute for Rehabilitation and Research (TIRR) for six weeks where I began the very long journey to my goal of a full recovery. Since returning home I have received occupational therapy, physical therapy, and have begun working out at Project Walk Austin.
At this point in my recovery I have regained a considerable amount of function in my upper body, sensation throughout my entire body, and now that I am going to Project Walk Austin and they are spending time working on my leg function we are beginning to see progress there as well.
I stand firm on my faith that if Jesus bore the price of our healing, then surely, by His stripes we are healed! I am going to stand on that, literally! I have also been extremely fortunate to have a very supportive church congregation, community, and family.
However, even with all of that support I have received, the costs of my injury and recovery can be very overwhelming. Foundations like Dream2Walk are a blessing and are doing a very remarkable thing by helping myself and others like me to overcome the odds and do what some deem impossible. Sometimes what people need the most is hope and support to see that they can do the impossible and are not confined to what limits medicine puts on them!
Through our "Pay it Forward" program our "Dream2Walk Family" has Donated 33.5 hours of Therapy to Justin!
Now as of 10/1/14 a regular recipient we have donated 10 hours of therapy to Justin!