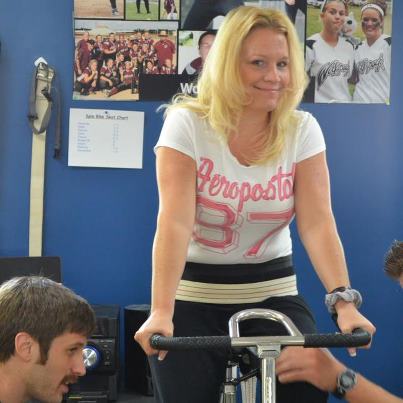 My name is Melissa Young and I am 37 years old as of 2012, I was a manager of a restaurant and sports bar for 5 years before my life turned upside down on January 31st 2010.
 I was with my friend and he hit a curb on the side of the road and the truck went airborne, and then hit a concrete culvert on the side of the road. When I opened my eyes I knew something was definitely wrong I told  my friend I couldn't feel my legs, I was never so scared in my life. I was airlifted to the nearest trauma hospital. I had a T12 burst fracture in my spinal cord, a concussion, lacerations on my face, a broken ankle and two shattered shoulders plus a punctured lung.
I had to have two blood transfusions because I lost so much blood. A week later I had to have a six hour surgery for my shoulders where I have a plate and 8 screws in each shoulder. I woke up after surgery and the next day I saw the doctor and he told me I would never walk again and I just sobbed. I thought my life is over and I kept telling God, "I know you kept me on this earth for a reason. I know the mind is a powerful thing and being strong is what I have to do and never give up."
On March of 2012, I discovered Project Walk Orlando; quickly fell in with the people and the aggressive therapy. I have been getting donations from family and friends to help with my therapy because insurance no longer covers it. I really need more funds to progress with my therapy. I am receiving disability now and looking for a job to help because the disability barely pays the bills.
I recently had another back surgery on October 31, 2012 to re-fuse the left part of my back, they had to add a larger rod down to L2 and add three bigger screws and more bone fragments.  However, I'm going to be cleared to resume workouts at Project Walk Orlando soon and I can't wait to get started back on my road to recovery!
I truly appreciate the opportunity that The Dream2Walk Foundation has given me to help make my dream of walking again someday come true. I think The Dream2Walk Foundation is a wonderful organization to help people with Spinal Cord Injuries. I will wake up everyday fighting to make my life better and work my hardest to gain the strength to walk again!
– Melissa Young
With your support and generosity we have been able to grant 50 hours of rehabilitation therapy to Melissa at Project Walk Orlando!
Watch the videos below to see Melissa at PW Orlando!