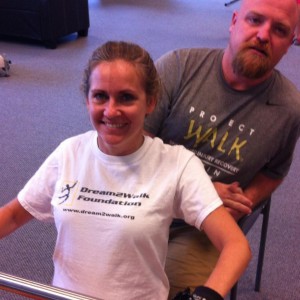 My name is Pamela Poulan and I am 38 years old now and have been in a wheelchair since 2006 but I refuse to stay in it. I have been happily married to Steve Poulan since 1999 and we have 3 beautiful children named Devon (age 21), Kelsey (age 11) & Landon (age 8).
I was living in Hungerford, Texas when I had an accident in my home on March 23, 2006 that shattered my C4-C5 vertebrae.  As I was lying on the floor, I realized I couldn't feel my body below the neck and I couldn't move.  I knew it was bad.  However, I was very calm and I kept hearing God say over and over "Just trust Me".  I called out to my husband and had him call 911.  I was taken to a local hospital and then life lighted to the Methodist Hospital in Houston, Texas.  I was in ICU for 2 weeks. The Doctors gave us no hope. My C4-C5 vertebrae were broken so badly, my spinal cord was stretched out and in an S shape.  They took bone from my hip and put a stint in my right leg to help block blood clots.  They used the bone to replace my shattered vertebrae and fused my neck back together with a titanium steel plate and two screws.
The doctors told my family it was as bad as being severed and I would be a quadriplegic for the rest of my life. They gave us little hope.  I was paralyzed from the neck down, and needless to say, our lives dramatically changed forever.   My kids had to live with a good friend of ours while I was in the hospital.  My husband worked in Houston and stayed with another friend so he could come to the hospital every night to be with me.
When I was released from ICU they transported me to TIRR Memorial Rehab Hospital and I began climbing the mountain of disability.  My right arm came back first and I began the painstaking effort of learning to do simple things like feed myself, brush my teeth and write.  My hands did not work so I had to use adaptive equipment.  Even sitting up was a struggle.  They had to start out slowly sitting me up because my injury caused my blood pressure to drop and I would pass out.
I remember my first night at TIRR very well.  As I lay in my hospital bed alone, reality hit me and I couldn't stop the flood of tears from running down my face.  I couldn't even wipe them away.  As I laying there battling with the overwhelming emotions of despair, I heard a voice on the the other side of the curtain softly encouraging me.  The next morning that voice became a person and she came around the curtain and introduced herself.  I was stunned when I saw her.  She had no arms and only one little leg that she used to wheel herself in an electric wheelchair. She was born that way and she was HAPPY.  She had the most beautiful smile.   I realized right then and there that I had a choice to make.  Become depressed and give up, or be determined to overcome.  Attitude is everything.  The mind is a very powerful tool.  I told myself everyday, I can do ALL things through Christ who gives me strength.  Every night after work, Steve would come and spend a couple of hours with me.  The first thing he would do when he saw me was to pull the covers off of my feet and demand, "Move your toe".  I would look down and focus.  "Did it move?" I would ask.  Lovingly, he would look at me and smile and say, "Not yet.  But it will."
The first three months in TIRR, they worked with me everyday.  Eventually, my right arm came back.  I had to learn to use an electric wheelchair to have some sort of independence.  Afterward, we ended up moving in with my parents for 3 months to give my body time to heal.  We were together again!  During this time, I focused on God's Word and I refused to believe that I would stay this way.  I had plenty of time on my hands so I would constantly try to move my arms to strengthen them.  One day my mother was helping me with my daily needs like bathing, going to the bathroom and stretching my arms and legs.  As we went through our routine everyday we would pray.  On this specific day after we finished, she jokingly slapped my knee that was bent and said "move that leg".  I looked down at my bent knee and focused.  I saw it move!  I yelled, "MOM, DID YOU SEE THAT?!?!"  She said, "See what?"  I focused again and said "watch".  It moved again!  We started screaming and yelling and crying.  We had the whole house over my hospital bed thinking something was wrong.  But it was a miracle!  By the end of the night, I was pulling both legs up voluntarily.  We went back to the doctor and he just shook his head and said "I'll be damn.  I can't believe it."
I went back to TIRR for another month and continued making progress.  We were able to move back home after my second trip to TIRR.  One of my best friends named Sharon helped with my daily needs.  I qualified for the NRN (Neuro Recovery Network) Program at TIRR that Christopher & Dana Reeve founded.  It was 5 days a week 1 1/2 hours each day.  They would suspend me above a treadmill with a parachute-like harness.  I had a therapist on each leg and one at my hips and they would help me simulate walking on the treadmill.  I was making good progress, but because of all the steroids I had been injected with after the injury to prevent swelling in the spinal cord, I gained a lot of weight.  My left knee started giving me problems and I had to quit the NRN program.
During my last week of training on the NRN my caregiver / best friend tragically died in a car wreck.  I became depressed and withdrawn.  We ended up moving to Lafayette, Louisiana next to Steve's parents because we needed help.  It took a while to get in the system in order for me to receive benefits for daily assistance and therapy.  It became evident when I started therapy again that they were not interested in helping me walk again.  Their goal is to teach me to live IN the chair.  For years, I mentally struggled with this.  I questioned God.  I was angry and frustrated.  Hope deferred makes the heart sick the Bible says.  I reminded God of His promise to me.  He told me to trust Him but how can I, when feel trapped.  Once again, I just made up my mind to trust Him one day at a time.
Then one day I was doing research on rehabs for spinal cord injuries when I came across the website for Project Walk.  Their mission is to provide an improved quality of life for people with spinal cord injuries through intense, activity-based spinal cord injury recovery programs, education, support and encouragement by using the Dardinski Method.  The Dardinski Method is a theory based upon more than a decade of experience working with spinal cord injuries (SCI) as well as current scientific research. Research on activity and how it relates to SCI has progressed rapidly in the last few years.  After SCI, the body begins to breakdown physiologically. This is partially caused by reducing the effect of gravity on the body and through exercise they are attempting to reverse this breakdown. The effects of exercise on someone with a spinal cord injury are similar to that of able-bodied individuals.  Passive exercise alone has been shown to decrease physiological breakdown after SCI, but they believe weight bearing exercise may have an even greater effect.   This type of exercise is what the human body was designed to do; standing, walking, lifting, etc.   Through all the frustration I was feeling, God never left my side. God truly made a way, when there seemed to be no way!
So we had a benefit to raise money for this innovative therapy.  The summer of 2011 was my first experience at Project Walk Austin.  I was amazed at the progress I made in just one month.  They worked with me on initiating movement in my legs and strengthening my core muscles.   I was weight bearing and beginning to take steps with assistance using a quad walker.  The summer sessions of 2012 provided even more progress.  I could walk 300 feet with only the quad walker!  I am hoping this year I will gain enough strength to be able to go from sit to stand on my own and start using a regular walker.  It is very difficult to get me in the quad walker without two people.  When I am home I can't practice using the quad walker unless there are two people available.
Thanks to foundations like Dream 2 Walk, I am able to continue my therapy and fulfill my dreams of walking again.  I believe one day I WILL walk on my own.  With God and people like you ALL things ARE possible!
Thank you so much for this opportunity!!!
With your support and generosity we have been able to grant 70 hours of rehabilitation therapy to Pam at Project Walk Austin!
60 hours after Paying it Forward to Justin Quesada donating 10 hours to him!