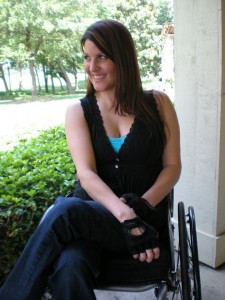 Victor Kiam once said,"Even if you fall on your face, you're still moving forward."
I have been living with paralysis for almost 18 yrs now and God only knows how true those words really are. My name is Traci. I am a C6-7 low level quadriplegic, paralyzed in a car accident in 1997. My life in a chair has been full of some of the most challenging obstacles I've ever faced, love and heartbreak , a little worldly travel, and a whole new respect for life in general.
I have been to Argentina and Russia to undergo experimental surgeries. I spent a summer in California participating in some seriously intense therapy. I've even been 100 feet below the most beautiful blue waters i have ever seen in the Cayman Brach Islands. My mother and I ran a successful women's boutique which was established in 1991. It was my after school job starting in 1993 and became our very own in 1999. This was my second home where I got to meet and build friendships with some of the most amazing people.
Since I was a child, my goal has always been the same. To love, give, and serve others. As an adult now more then ever, if I can make someone laugh or smile then my day is complete. I have been blessed with a wonderful family and an amazing husband who experiences the same challenges as I do. After closing our business I finally have the time to really focus on my therapy again and I look forward to this new chapter in my life that's about to begin. Thank you Stewart and The Dream2Walk foundation for choosing me. I am ready to move forward and hopefully avoid my face hitting the ground!